Posted By: Kale
The Sega Satan WIP/screenshot thread -

05/28/11

03:01 PM
Ok, usual rules, post here any Sega Saturn screenshots and/or bug reports. We'll evenutally put all the info gathered there into a proper wiki page at some point.
DISCLAIMER: me and Arbee accepts only valid bug reports, i.e. try to limitate bug reports for games that doesn't surpass the Sega Saturn -> licensed by Sega logo screens, it means that the disc recognition failed hence your CD image is likely to be badly ripped
--------------------------------------------------------------
The Coveni! - Ano Machi wo Dokusen Seyo (J)
Shows this screen, trying to select an option ends up in either a tight loop or an assert without log. I don't know what this screen means either ...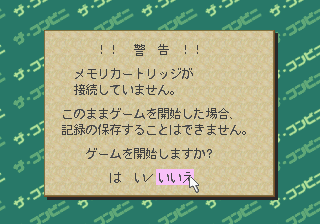 AI Shougi
Recognizes the disc but returns to main menu.
Game Basic
Boots fine, missing keyboard device emulation.